Meet Your New Bitrix24
Stunning Free webSITES THAT HELP YOU MARKET AND SELL!
Take advantage of new marketing automation options available in Bitrix24 CRM
WATCH WEBINAR
Bitrix24.Sites
Free WEBSITE BUILDER THAT'S FULLY INTEGRATED WITH CRM
Meet the first free website and landing page creator that is fully integrated with CRM. Any time your visitors fill the form out, use website chat, or request a call back, this data is automatically added to Bitrix24 CRM, routed to a responsible manager or triggers marketing automation workflow.
Available for limited beta testing.
SIMPLE AND VISUAL 
Create websites and landing pages yourself. No coding or design knowledge required.
CAPTURE And market
Easily capture contact information with our free web forms, website chat and callback widget.
READY MADE
Dozens and dozens of industry specific templates.
SEO FRIENDLY
Grab your share of search engine traffic with our automatic SEO optimization tools.
ANY DEVICE
Your Bitrix24 website will automatically adjust to the device your visitors are using to access the site.
DOMAIN NAME
Use free third level Bitrix24.Site domains or connect your own domain.
CRM WITH MARKETING AUTOMATION
RUN MARKETING CAMPAIGNS FROM YOUR CRM
Reach your audience with a number of different marketing and communication tools. Create customer segments, run retargeting campaigns in Facebook or Instagram, send reminders and email newsletters.

Available for limited beta testing.
AUDIENCE SEGMENTING
Create static or dynamic segments to increase your sales and conversion rates.
EMAIL MARKETING
Get your email promotions delivered and read.
RETARGETING
Reach your clients in Facebook, Instagram and other networks.
SMS NOTIFICATIONS
Send text messages in bulk to your customers easily.
VOICE BROADCASTING
Run robocall campaigns to get your message heard.
MESSENGERS AND SOCIAL NETWORKS
Reach your audience via mobile messengers and social networks.
NEW BITRIX24 CRM UI 
Bitrix24 CRM now features a totally new interface for leads, deals, contacts, companies, quotes and invoices. You can make phone calls, send emails or SMS, add activities and tasks directly from the new CRM slider panel.
Now in all Bitrix24 accounts.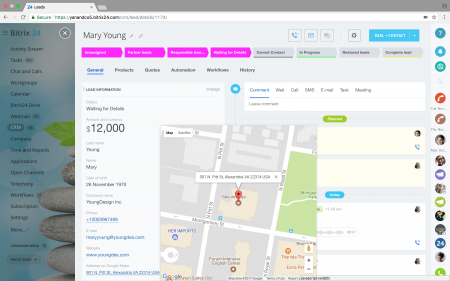 GOOGLE MAPS
Customer or shipping address can now be displayed inside CRM via Google Maps integration.
SALES TARGET INSIDE CRM
CREATE SALES QUOTAS
You can set sales targets for individual employees, departments or the entire company. The quotas can be defined as a total sales amount for a selected period or a number of deals that have to be closed won within that time interval.
You can see the progress in real time, understand who's falling behind, and how likely you are to hit your goals.
Available for limited beta testing. 
BITRIX24 HELPS YOU MEET YOUR GOALS ON TIME
NEW IN TASKS AND PROJECTS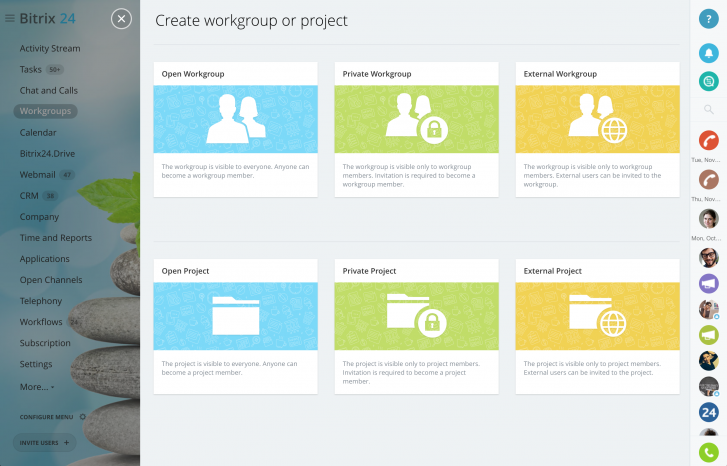 PROJECTS INSIDE BITRIX24
Create projects inside Bitrix24. Each project has start and end dates, project owner and allows access by external users who are outside your company. Plan and execute with Bitrix24!
Available for limited beta testing.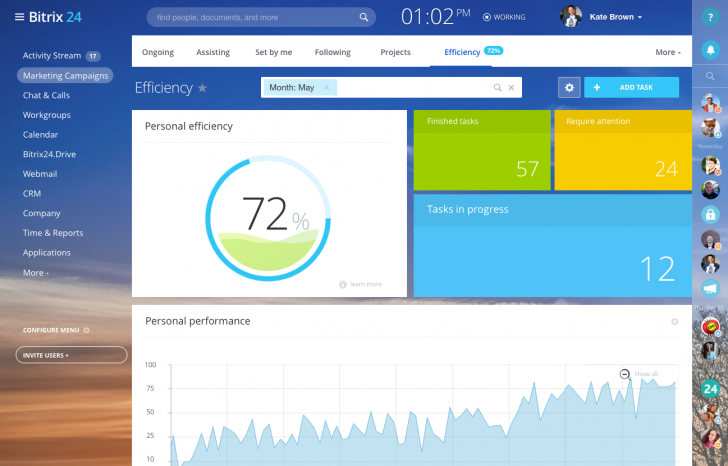 EFFICIENCY
The new efficiency KPI is automatically calculated as a percentage of all tasks completed on time and without any objections. It is calculated for individual employees, departments or the entire company and is capable of identifying weak links inside your organizations. Under development.

CUSTOMER SUPPORT CUSTOMERS LOVE
NEW IN OPEN CHANNELS
OPEN CHANNEL REPORTS
IMPROVE CUSTOMER SUPPORT
Bitrix24 open channel reports how quickly your agents react to client inquiries and how happy these customers are with the answers provided.

Under development.
CANNED REPLIES
MAKE YOUR AGENTS MORE PRODUCTIVE 
When the same questions get asked over and over again, canned responses are a great way to help your agents serve the customer needs faster and more efficiently. Now available in all Bitrix24 accounts. 
ACTIONABLE COMMUNICATIONS 
NEW IN BITRIX24.COMMUNICATIONS
NEW CALENDAR. MODERN AND CLEAN. 
The new Bitrix24 calendar has been completely redesigned. We have added new capabilities and made it easier to collaborate with others using our calendars. Available for limited beta testing.
SAFE DRIVE CLEANUP
The new Bitrix24 drive provides detailed information on how online storage is used, which users are taking most space up and which files can be safely deleted. Available for limited beta testing.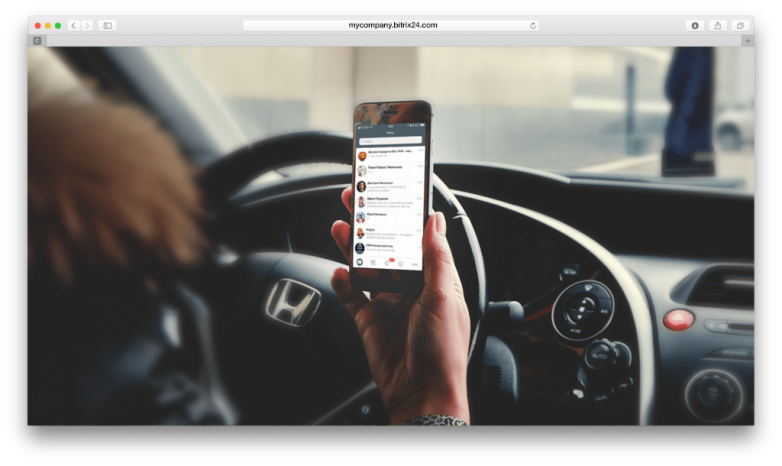 NEW MOBILE CHAT
The new Bitrix24 mobile app has got a lot faster. We have changed the interface, mobile chat and navigation. We promise you'll love it!
Available for limited beta testing.
VIDEO ANNOUNCEMENTS – WORTH A THOUSAND WORDS
You can now record video announcements and add them to the Activity Stream posts and comments directly from your browser! Now available in all Bitrix24 accounts.
THEMES
MAKE BITRIX24 YOUR OWN
We all like unique things. You can now personalize your Bitrix24 account by uploading background images and videos or using one of the themes provided that matches your mood!


Now available in all Bitrix24 accounts!